Rolero is the regent of Rislin, and the father of Eliseo.
Vital StatisticsEdit
Name:
Rolero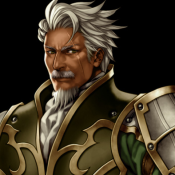 Race: Human
Class: Noble
Gender: Male
Age: 56
Alignment: Lawful Neutral
Deity: Al-Druil
Height: 6'4
Weight: Unknown
Hair: White
Eyes: Brown
Appearance: Rolero maintains much of his almost severe presence even now that he's grown older. In his youth, he was one of the most fierce members of the guard, and even now carries the scars of his many battles. Most notably, he bears a long scar over his left eye.
Personality: Rolero rarely frets over much. In fact, it could be said that he is (or was) one of the most easily likeable regents in all of Helvecus. Forgiving, but not foolish, he's willing to overlook small infractions in favor of educating someone or finding common ground.
Even after the oddities with his memory started and he began to simply ignore Rislin to a point, he was still very much amicable - if a little demanding.
Religious Ideals: Following Al-Druil's teachings, Rolero takes pride in how frequently he's been able to solve conflicts with words, rather than swords. [more later...]
RelationshipsEdit
The PartyEdit